Product
Video
Indication
Benefits
Images
Range available
Ordering Information
Specifications
Delta-Cast® Prelude is taking synthetic splinting to the next level. Offering a completely water resistant solution, practitioners and cast techs can be assured that their patients will have the highest level of comfort and hygiene with the lowest risk of complications.
Its quick setting time and ultra conformability fulfills the demands of modern users for a fast, secure and easy splinting solution. Dynacast®-Prelude – your unique polyester "splint to go".
Ordering information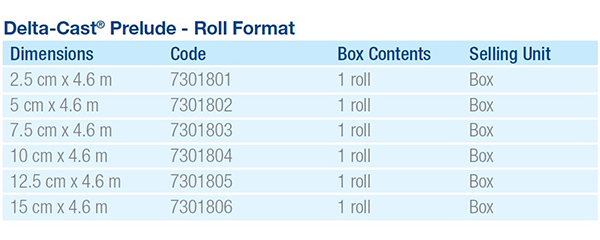 Finger splint application Finger protector application Coaptation splint with Actimove Sling Dorsal splint Volar splint Universal splint immobilizer Thumb & Wrist immobilizer Thumb spica splint Volar Dorsal splint Boxer splint Reverse Sugar Tong Splint Dorso-Lateral Elbow Splint Reinforced Posteriour Leg Splint